Volunteer Income Tax Assistance (VITA)
Main Content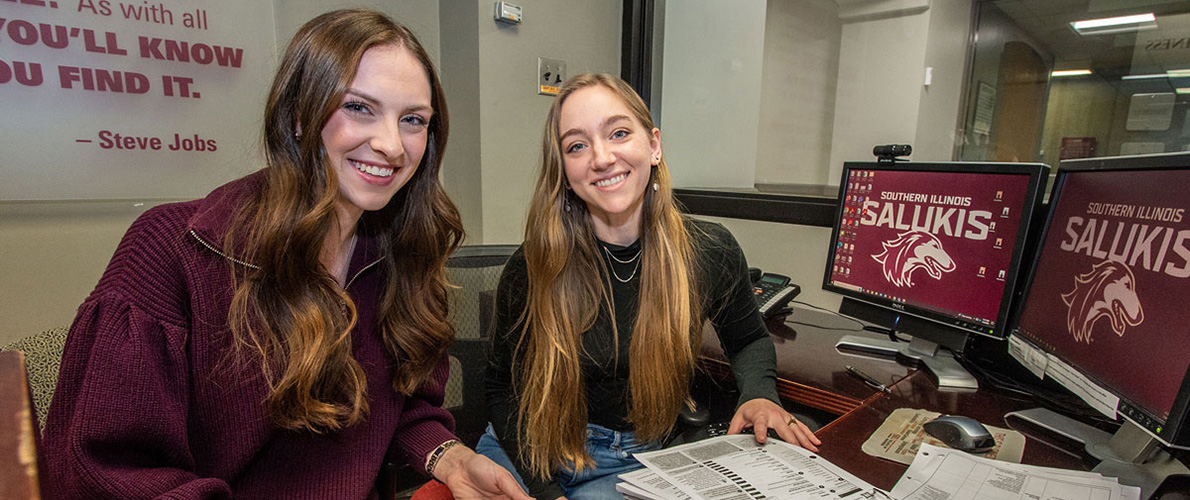 The School of Accountancy's Beta Alpha Psi is proud and pleased to provide free income tax preparation and filing services to the local community. Since 2003, Beta Alpha Psi has worked with the IRS to train volunteers and provide services. Two student members of Beta Alpha Psi serve as the VITA coordinators planning, organizing, and running the program. A faculty advisor oversees the coordinators and the program. The other volunteers are typically School of Accountancy students, Law students, and alumni. School of Accountancy faculty, using IRS and self-created materials, educates and trains the volunteers to prepare and file tax returns. The volunteers must pass three separate certifications before they volunteer to prepare tax returns through the program. The coordinators and faculty advisor must pass additional certifications for their positions.
2023 Beta Alpha Psi VITA Coordinators
Loralei Glueck, a senior accounting major from Tremont, Illinois, Vice President of Beta Alpha Psi and VITA Coordinator
Jaiden Sanders, a senior accounting major from Vienna, Illinois, Vice President of Beta Alpha Psi and VITA Coordinator
Who qualifies?
The free tax preparation services are available to any U.S. citizen, whether single or married, as long as their income does not exceed $60,000, and they take the standard federal deduction.
When?
The services are provided on specific dates each filing season. For 2023, the services will be provided on Saturdays, March 4, 11, and 25, 2023, beginning at 9:00 am to 1:00 pm. The services are available on a first-come, first-served basis. No appointments are taken.
Where?
Basement of College of Business and Analytics, 1025 Lincoln Drive, Carbondale, IL 62901.
The VITA students at SIU can only file domestic returns.
However, SIU international students and faculty may submit their information to www.getyourrefund.org, another VITA site with international certifications, to get their returns completed for free.
The services at SIU are also unavailable for people whose returns involve:
Schedule C with losses;
Complicated capital gains and losses
(Schedule D);
Nondeductible IRA (Form 8606);
Minor's investment income (Form 8615);
Determination of worker status for purposes of federal employment taxes and income tax withholding (Form SS-8);
Premium tax credits (Parts 4 and 5 of Form 8962);
Foreign returns.
Listen to a recent interview with Loralei Glueck, a VITA Coordinator, on WDBX radio, OK Boomer with Robert Rickman.
What to bring
In order to take advantage of the free tax preparation, community members should bring all of the necessary documents. That includes legal photo identification, such as a driver's license, passport or state ID, along with Social Security cards and birth dates (for spouse and dependents as well, if applicable).
In addition, bring all necessary tax documents, including all official wage, earning, interest and dividend statements and copies of the previous year's state and federal tax returns, if available. Those claiming child care credits will need to bring the day care provider's tax identification number (either Social Security number or business employer identification number) and amount paid for child care.
Participants should also bring Letter 6419, which provides information about any Advance Child Tax Credit payments they may have received, if applicable. Failure to provide all of the necessary information could result in the VITA students being unable to complete and file the return on-site and/or the payment of any income tax refund being delayed or hindered, Williams said. In addition, bring a blank check or other proof of bank account routing and account numbers for direct deposit if you anticipate receiving a tax refund.
Free e-filing is included with the tax preparation.
Note that when married couples are filing a joint return, both must be present to sign the required forms.
For more information, email vita@business.siu.edu or call 618-453-2289.